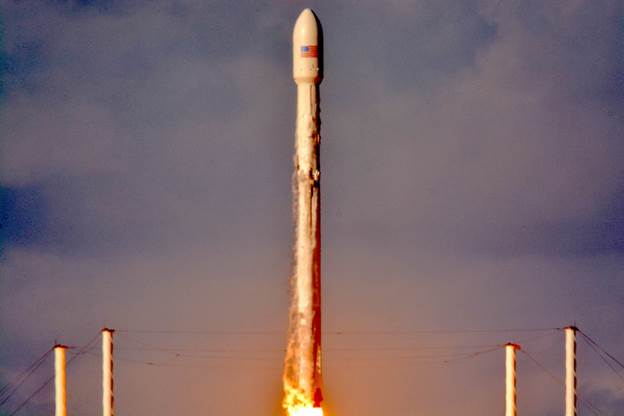 Falcon 9 Rocket Successfully Launches SES-16/GOVSAT-1 Satellite
A SpaceX Falcon 9 rocket successfully launched the SES-16/GOVSAT-1 payload at 4:25 p.m. EST today from Cape Canaveral Air Force Station Launch Pad 40. The launch was delayed one day to allow engineers time to replace a faulty sensor on the rocket's second stage. In a departure from previous Falcon 9 launches, the first stage booster was not recovered. The first stage booster flown today had been used one time previously, and had a design life of just two launches. The booster was, however, fitted with landing legs and grid fins to make a controlled splashdown in the Atlantic Ocean. It facilitated a high thrust landing burn, whereby three engines were fired instead of one engine typically fired on previous landings. The booster survived the splashdown intact and floated on the surface of the water. It may be towed back to port.
SES-16/GOVSAT-1 is a joint venture between satellite operator SES and the government of Luxembourg. The satellite is intended to provide military, government and institutional applications, with the majority of its capabilities dedicated to the government of Luxembourg's obligations to NATO. According to SES, the satellite will "provide secure, reliable and accessible satellite communication services for governments, addressing connectivity demands for defense and institutional security applications." The satellite weighed about 9,300 pounds fully fueled at launch and will be deployed in a geostationary orbit about 22,300 miles above Central Africa. Built by Orbital ATK, the satellite has a design life of 15 years. In an interesting design feature, the satellite has a special port that can receive a payload which can achieve an orbital docking. Launch occurred 60 years to the day following the launch of Explorer I, the first U.S. satellite, launched from Cape Canaveral Launch Complex 26 on January 31, 1958.