Falcon Heavy Scores Complete Success On First Operational Mission
A SpaceX Falcon Heavy rocket has scored a complete success on its first operational mission. The Falcon Heavy launched from Kennedy Space Center Launch Pad 39A at 6:35 p.m. EDT today. Launch was delayed four days due to a number of technical and weather concerns, but today's launch occurred on time with no delays. This was the second launch of a Falcon Heavy, following a demonstration flight in February, 2018. The rocket launched today employed three Block 5 boosters, each being flown for the first time. The two outside boosters successfully landed at Landing Zones 1 and 2 on Cape Canaveral Air Force Station, while the center booster was successfully recovered on the "Of Course I Still Love You" drone ship stationed on the Atlantic Ocean about 300 miles east of Cape Canaveral.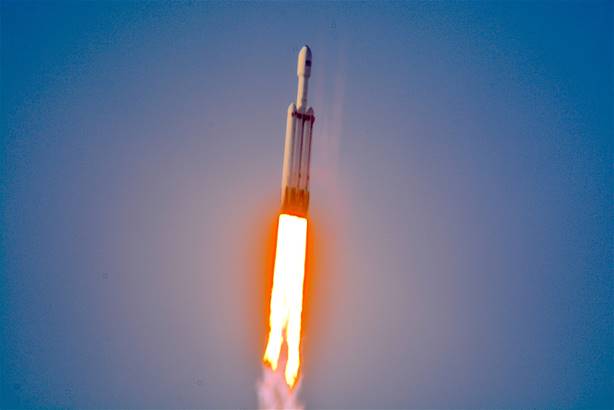 The rocket's payload, the Saudi Arabian Arabsat-6A satellite, was successfully deployed about 34 minutes after liftoff. Seasoned rocket watchers and journalists agree that this was one of the most spectacular launches ever, citing a crystal clear sky, the loud noise of the 27-engine launcher and the landing of the two boosters on the Cape heralded by a total of four deafening sonic booms. This was a major success for SpaceX, which hopes to continue to launch Falcon Heavy rockets on a variety of heavy-lift missions for commercial and government customers. Arabsat-6A, operated by King Abdulaziz City for Science and Technology, is the most advanced communications satellite built by Lockheed Martin. It will be stationed in a geostationary orbit about 22,000 miles above Earth at 30.5 East Longitude. The 14,000-pound satellite will provide television, Internet, telephone and secure communications to customers in the Middle East, Africa and Europe. The satellite has a planned design life of 15 years.