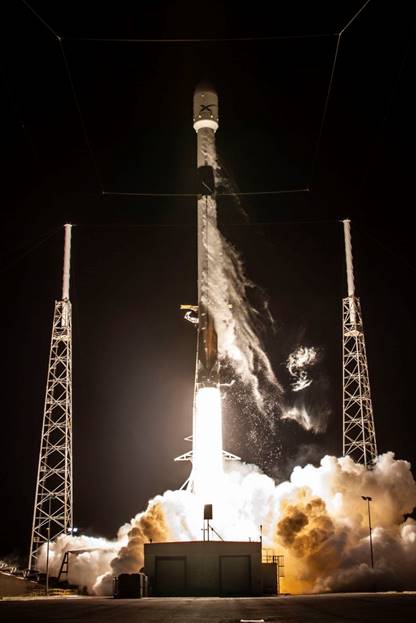 Falcon 9 Successfully Launches 60 Starlink Broadband Satellites
A SpaceX Falcon 9 rocket successfully launched 60 Starlink broadband satellites at 10:30 p.m. EDT today from Launch Pad 40 on Cape Canaveral Air Force Station. Launch was originally scheduled for May 15, 2019 but was scrubbed due to out of limits high altitude winds. A follow-up launch attempt on May 16, 2019 was postponed to allow software updates to the 60-satellite Starlink payload. Today's launch occurred on time with no delays. The Falcon 9 first stage booster employed in today's launch was being flown for the third time. It first supported the Telstar-18 Vantage launch in September, 2018 and then the Iridium-8 launch in January, 2019. The booster was successfully recovered with a landing on the "Of Course I Still Love You" drone ship deployed on the Atlantic Ocean about 400 miles northeast of Cape Canaveral.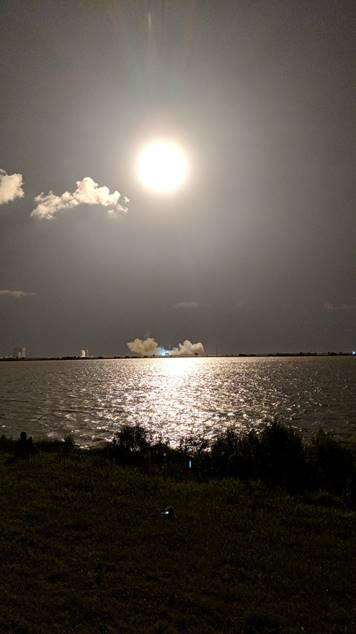 The Starlink payload was successfully placed in orbit beginning about 62 minutes after launch. The 60 satellites, designated Starlink-1, began deployment at an altitude of about 440 kilometers and using on-board propulsion they will ultimately reach an operational altitude of about 550 kilometers. The Starlink satellite constellation, developed and operated by SpaceX, is intended to connect end users with low latency, high bandwidth broadband services, providing continual coverage around the globe using several thousand satellites in low-Earth orbit. SpaceX hopes to have up to 720 Starlink satellites in orbit within the next year. Each Starlink satellite features a simplified, compact design, providing smooth manufacturing and deployment capabilities. With a flat-panel design featuring multiple high-throughput antennas and a single solar array, each Starlink satellite weighs about 600 pounds. At a total weight of over 30,000 pounds, today's payload represented the heaviest payload ever launched by SpaceX.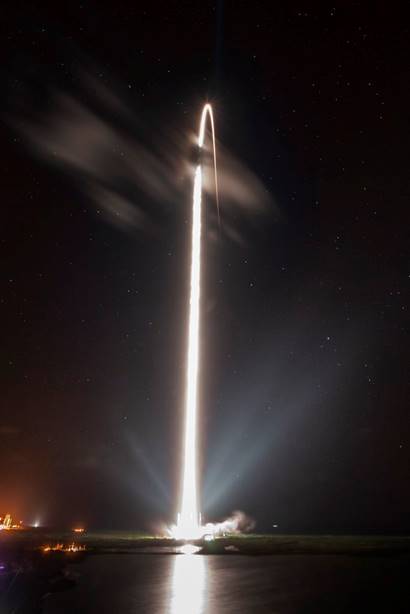 To adjust position in orbit, each satellite features a Hall thruster powered by krypton. The satellites employ a Startracker navigation system that allows SpaceX to orient them with extreme precision. The Starlink satellites are also capable of tracking on-orbit debris and autonomously avoid collisions. The satellites are designed to easily burn up in Earth's atmosphere at the conclusion of their operational life. To quote a media release from SpaceX, "This mission will push the operational capabilities of the satellites to the limit. SpaceX expects to encounter issues along the way, but our learnings here are key to developing an affordable and reliable broadband service in the future." The target date for the next Starlink launch has yet to be announced.