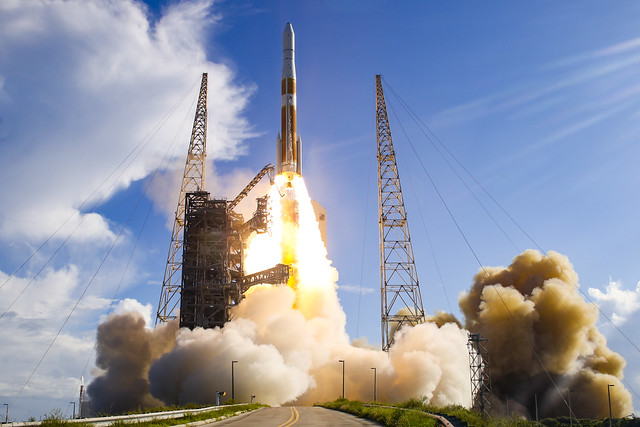 Delta IV Successfully Launches Global Positioning System Satellite
A United Launch Alliance Delta IV rocket successfully launched the GPS III-SV02 satellite at 9:06 a.m. EDT today from Launch Pad 37B on Cape Canaveral Air Force Station. Launch was delayed about five minutes to allow additional time to wait for preparations associated with the rocket's second stage fuel system. The rocket launched today was in the Delta IV Medium 4,2 configuration, featuring a 4-meter fairing and two solid rocket boosters. The 8,170-pound payload was successfully placed in an elliptical transfer orbit about two hours after liftoff. Today's launch marked the final flight of a "single-stick" (flying with one core booster) Delta IV Medium rocket. The rocket will ultimately be replaced by the new Vulcan Centaur. But the Delta program is not yet finished. United Launch Alliance has five more Delta IV Heavy rockets to be launched between now and 2023, following which the storied Delta program, which began in 1960, will officially come to an end.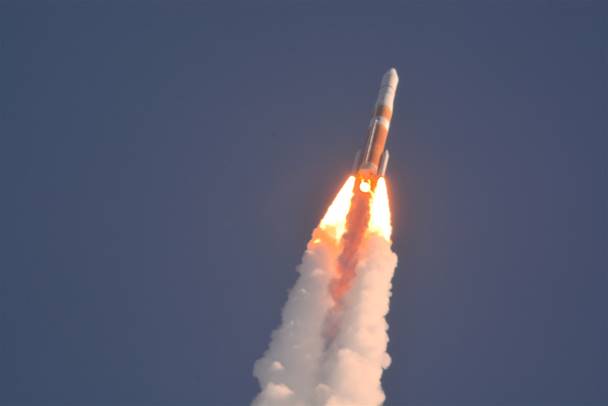 GPS III-SV02 (Global Positioning System III-Space Vehicle 02) is the second in a planned constellation of ten next generation GPS satellites. The GPS III series of satellites is intended to deliver sustained, reliable GPS capabilities to America's warfighters, U.S. allies and civilian users. GPS provides positioning, navigation and timing service to civilian and military users worldwide, with the goal of fulfilling increasing demands for the GPS system. System improvements introduced with the GPS III series include improved anti-jamming, improved accuracy and improved integrity. The satellites operate on six orbital planes at 55-degrees inclination at an altitude of about 12,500 miles. Design life is 15 years with 12 years mean mission duration. Position accuracy is within 0.63 meters. Prime contractor for GPS III-SV02 is Lockheed Martin.