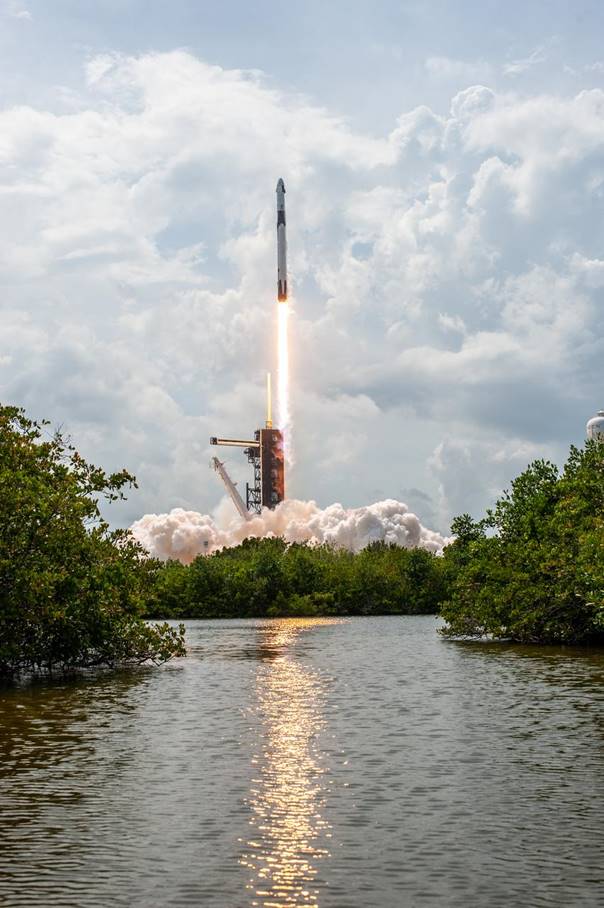 Falcon 9 Supports First U.S. Manned Launch Since 2011
It was one of those historic moments that will be etched in the memory of the U.S. space program for years to come. A SpaceX Falcon 9 rocket successfully launched a Crew Dragon spacecraft carrying astronauts Bob Behnken and Doug Hurley at 3:22 p.m. EDT today from Launch Pad 39A at the Kennedy Space Center. Launch was originally set for May 27 but was postponed due to bad weather. This was the first manned launch from U.S. soil since the Space Shuttle was retired in July, 2011 and the first time U.S. astronauts were launched aboard a commercial rocket and spacecraft. The mission, Crew Dragon Demo-2, will be the final Crew Dragon test flight prior to regularly scheduled astronaut crew flights to and from the International Space Station under the NASA Commercial Crew Program contract with SpaceX. It will provide critical data on the performance of the Falcon 9 rocket, Crew Dragon spacecraft, ground support systems as well as on-orbit operations, docking and landing operations.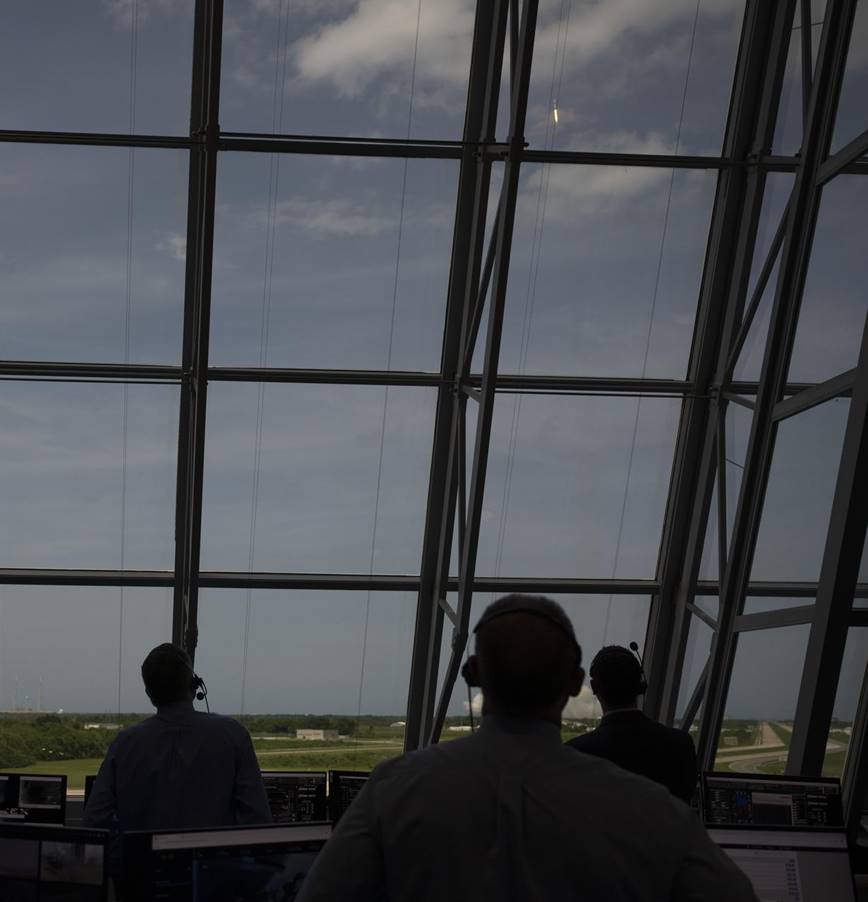 The Crew Dragon spacecraft is 13 feet in diameter and 26.7 feet in height. It weighs 13,228 pounds at launch and 6,614 pounds upon return to Earth. It is capable of carrying up to seven people into space. Crew Dragon has a trunk at its base for support and the carriage of equipment and is jettisoned just prior to the return to Earth. The space suits worn by the astronauts are far more comfortable and less bulky than those employed in previous manned space flights. The suits were designed and manufactured by SpaceX. They are designed to provide pressurization and temperature control for the astronauts during flight. Features of the spacesuits include a 3D printed helmet, touchscreen compatible gloves, flame resistant outer layer and hearing protection.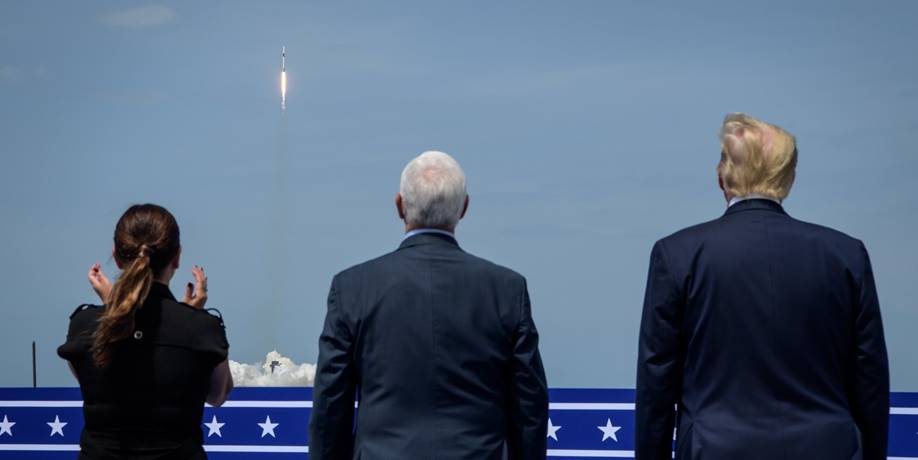 SpaceX controlled today's launch from the historic Kennedy Space Center Launch Control Center Firing Room 4, which the company is now leasing as its primary launch control center. The Launch Control Center has previously supported the historic Apollo, Skylab, ASTP and Space Shuttle programs and is located adjacent to the cavernous Vehicle Assembly Building. Once launched, Crew Dragon is controlled by the SpaceX Mission Control Center in Hawthorne, California in association with International Space Station (ISS) Mission Control Center at the Johnson Space Center in Houston, Texas. Crew Dragon is scheduled to autonomously dock with ISS at 10:29 a.m. EDT Sunday, May 31. This will be the first manned spacecraft to autonomously dock with ISS, but the astronauts aboard will be able to take over the docking procedures should a problem develop. Crew Dragon will be berthed at the forward port of the ISS Harmony Module. It has not yet been determined how long astronauts Behnken and Hurley will remain aboard ISS, they could be there as long as several months if conditions warrant prior to returning to Earth aboard Crew Dragon with a splashdown on the Atlantic Ocean.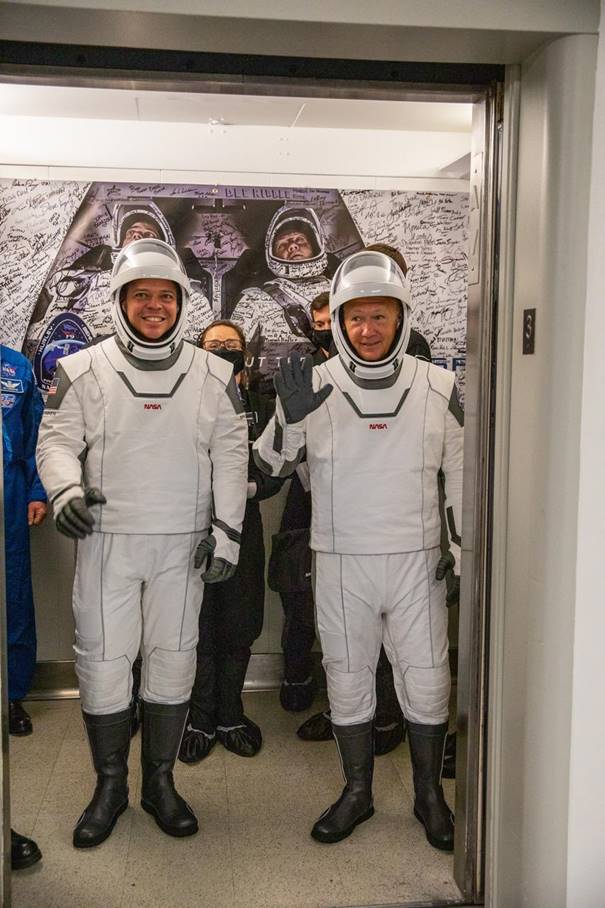 Astronaut Behnken is the joint operations commander for the Crew Dragon Demo-2 mission. As such he will oversee activities such as rendezvous, docking and undocking as well as continuing mission activities regarding Crew Dragon Demo-2 while aboard ISS. Behnken was selected as an astronaut in 2000 and flew aboard STS-123 and STS-130, performing three spacewalks during each mission. Astronaut Hurley is the spacecraft commander for the Crew Dragon Demo-2 mission and is in charge of activities including launch, landing and recovery. He was selected as an astronaut in 2000 and flew aboard STS-127 and STS-135, the final Space Shuttle mission. President Donald Trump and Vice President Mike Pence were both on hand at the Kennedy Space Center for today's launch, viewing it from the balcony of the OSB-II building across the street from the historic Vehicle Assembly Building (VAB). The two participated in a ceremony and reception inside the VAB following the launch. Both made comments to hundreds of invited guests, dignitaries and media praising SpaceX and NASA for a job well done and looking forward to returning humans to the Moon by 2024 and Mars beyond that. Both efforts will require cooperation between the U.S. government and commercial companies like SpaceX in order to be successful. Should all go well during this mission, the first operational Crew Dragon manned flight is tentatively set for August 30, 2020.