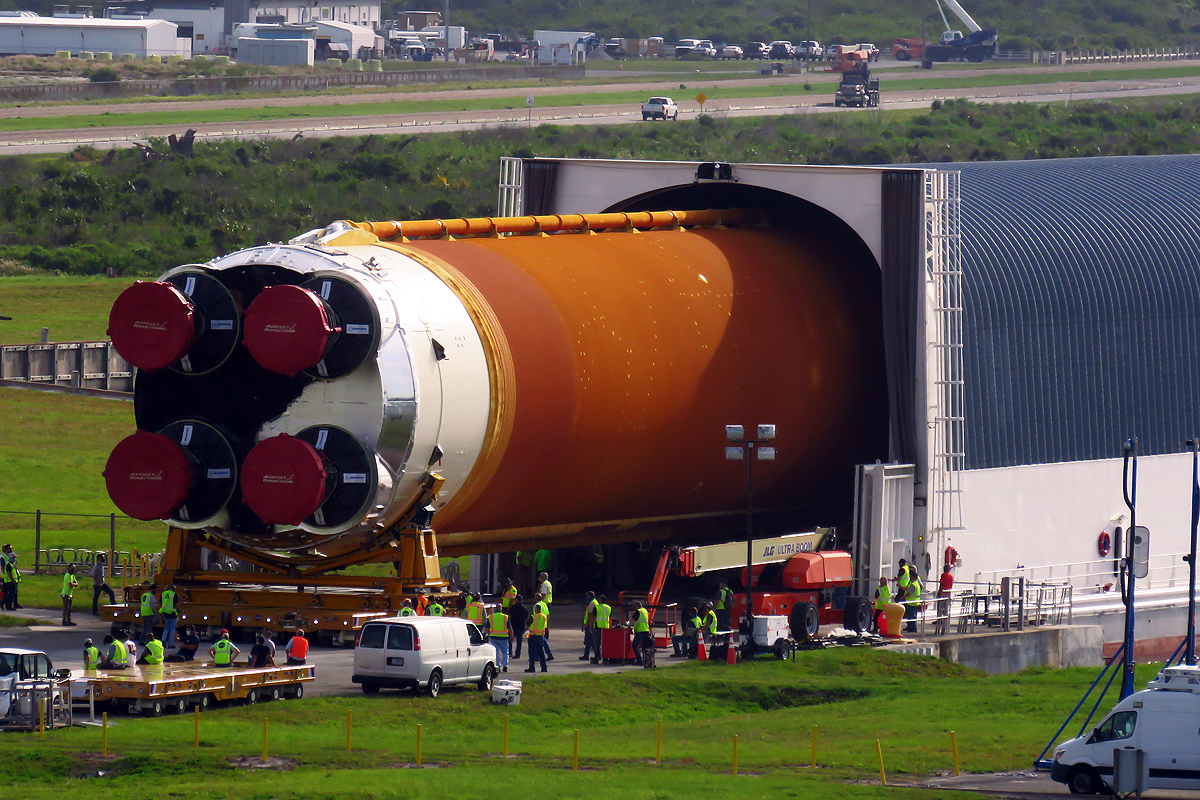 SLS Core Booster Offloads At KSC
The core booster which will fly in the first Artemis program launch was offloaded from a barge today at the Kennedy Space Center. The core booster will be transported to the Vehicle Assembly Building where twin solid rocket boosters await. The twin solid rocket boosters will be mated to the core booster in preparation for a launch from Launch Pad 39B. The exact launch date has not yet been announced. Here is some background on the Space Launch System and its components, including the core booster.
The NASA Space Launch System (SLS) is a powerful, advanced launch vehicle designed to usher in a new era of human exploration beyond Earth's orbit. With unprecedented power and capabilities, SLS will launch crews in the NASA Orion spacecraft on missions to explore multiple deep-space destinations. Offering more payload mass, volume capability and energy to speed missions through space than any current launch vehicle, SLS is designed to be flexible and evolvable and will open new possibilities for payloads, including robotic scientific missions to destinations like Mars, Saturn and Jupiter.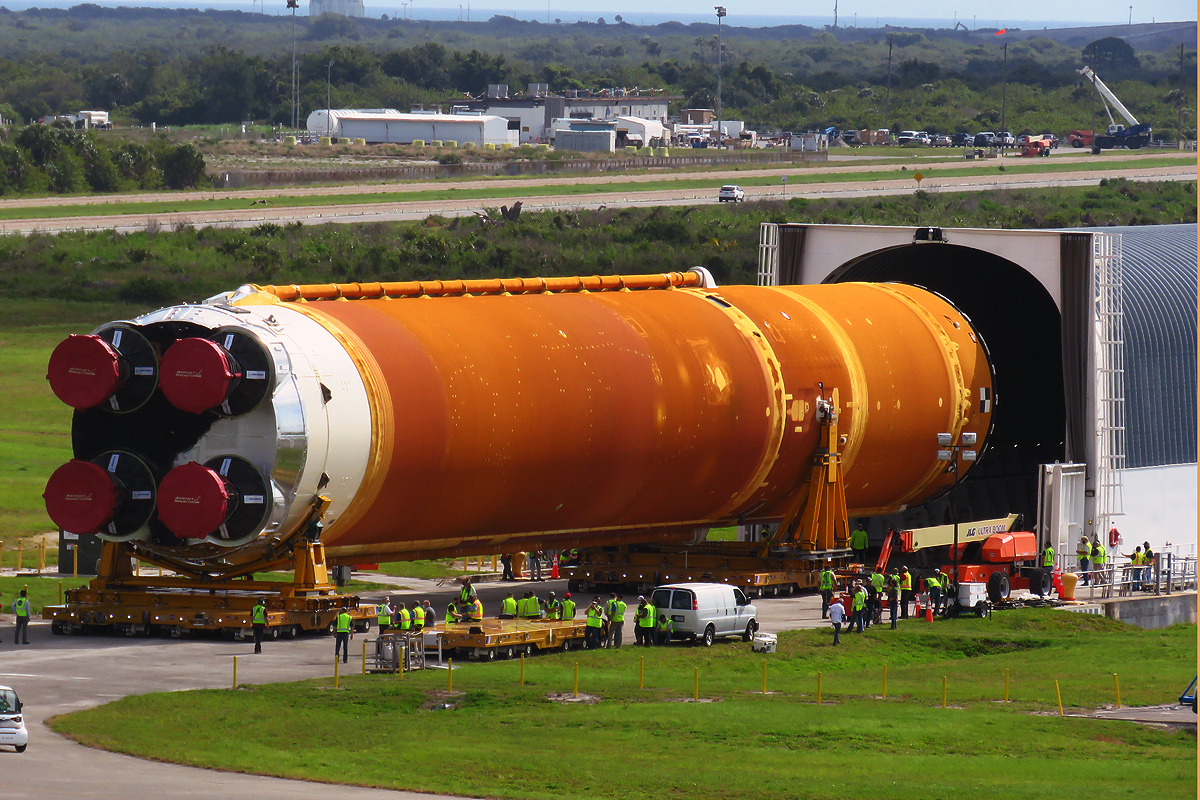 To fit NASA future needs for deep-space missions, SLS is designed to evolve into increasingly more powerful configurations. The first SLS vehicle, called Block 1, has a 77-ton lift capability. It will be powered by twin five-segment solid rocket boosters and four RS-25 liquid propellant engines. The SLS Block 1 will produce about 8.8 million pounds of thrust at liftoff. It will produce 15 percent more thrust than the Saturn V and at a weight of 5.75 million pounds will carry more than three times the mass of the Space Shuttle. SLS Block 1 will be used to launch an uncrewed Orion spacecraft beyond the Moon and back, then carry a crewed Orion spacecraft the same distance, farther than humans have ever traveled.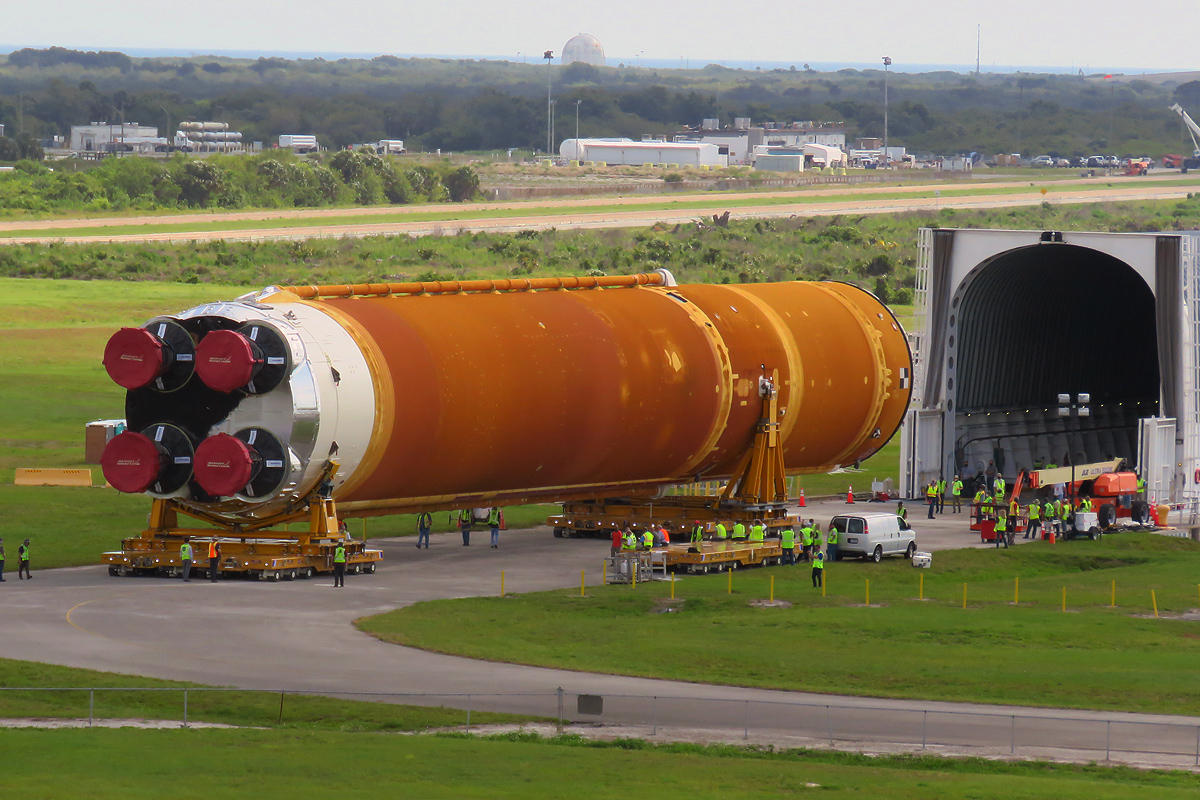 The SLS Block 1B crewed configuration will be taller than the Saturn V rocket and will be used to launch humans on more ambitious missions beyond the Moon, to the proving ground of space where NASA will test systems needed for the journey to Mars. Utilizing an Exploration Upper Stage, the Block 1B can, in a single launch, carry the Orion spacecraft along with exploration systems like a small deep-space habitat module or science spacecraft. The next evolved configuration, the SLS Block 2, will be the workhorse vehicle for assembling a human mission to Mars. Using improved engines and solid rocket boosters, SLS Block 2 will have a liftoff thrust of about 9.2 million pounds.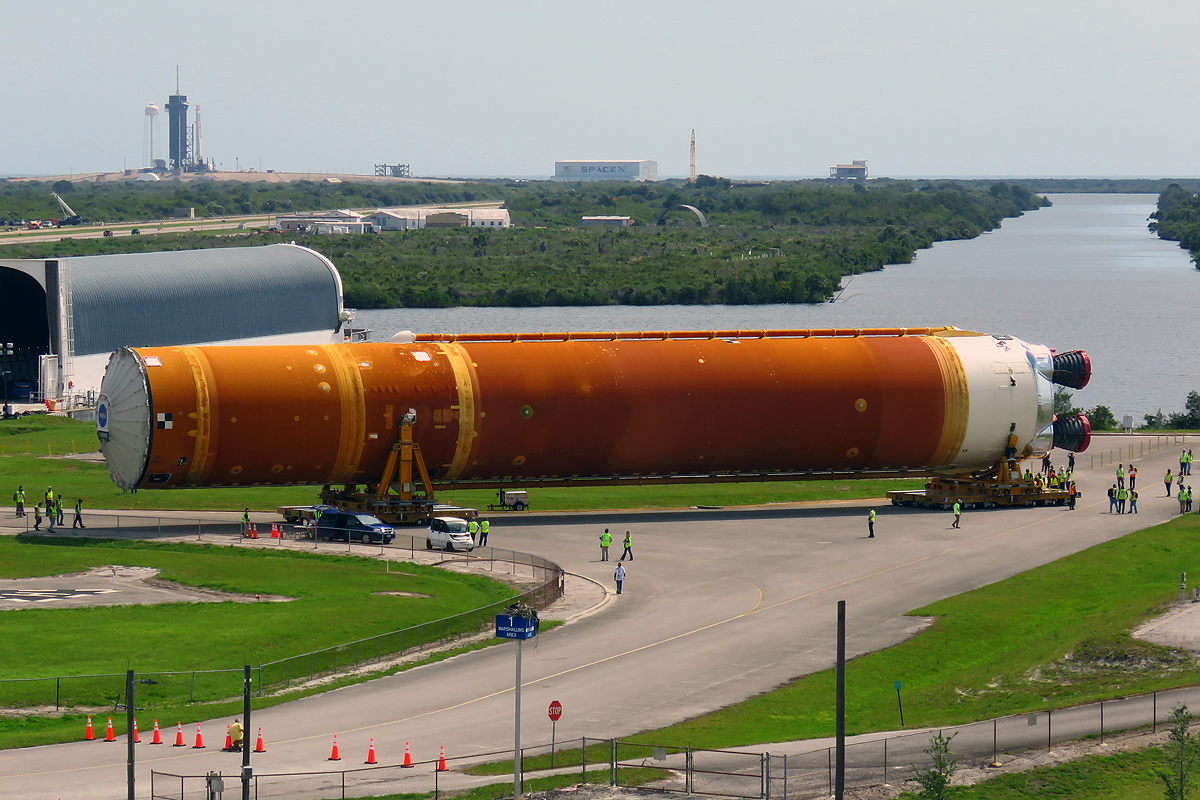 SLS consists of a core stage, four RS-25 engines, two solid rocket boosters and a variety of payload adapters, fairings and upper stages. The core stage is more than 200 feet tall and 27 feet, seven inches in diameter. It will store more than 730,000 gallons of super-cooled liquid oxygen and liquid hydrogen to feed the engines. Propulsion for the core stage will be provided by the four RS-25 engines, being upgraded from main engines left over from the Space Shuttle program. Improvements to the engines include a new engine controller, nozzle insulation and increased thrust to 418,000 pounds each, up from 395,000 pounds each when used on the Space Shuttle.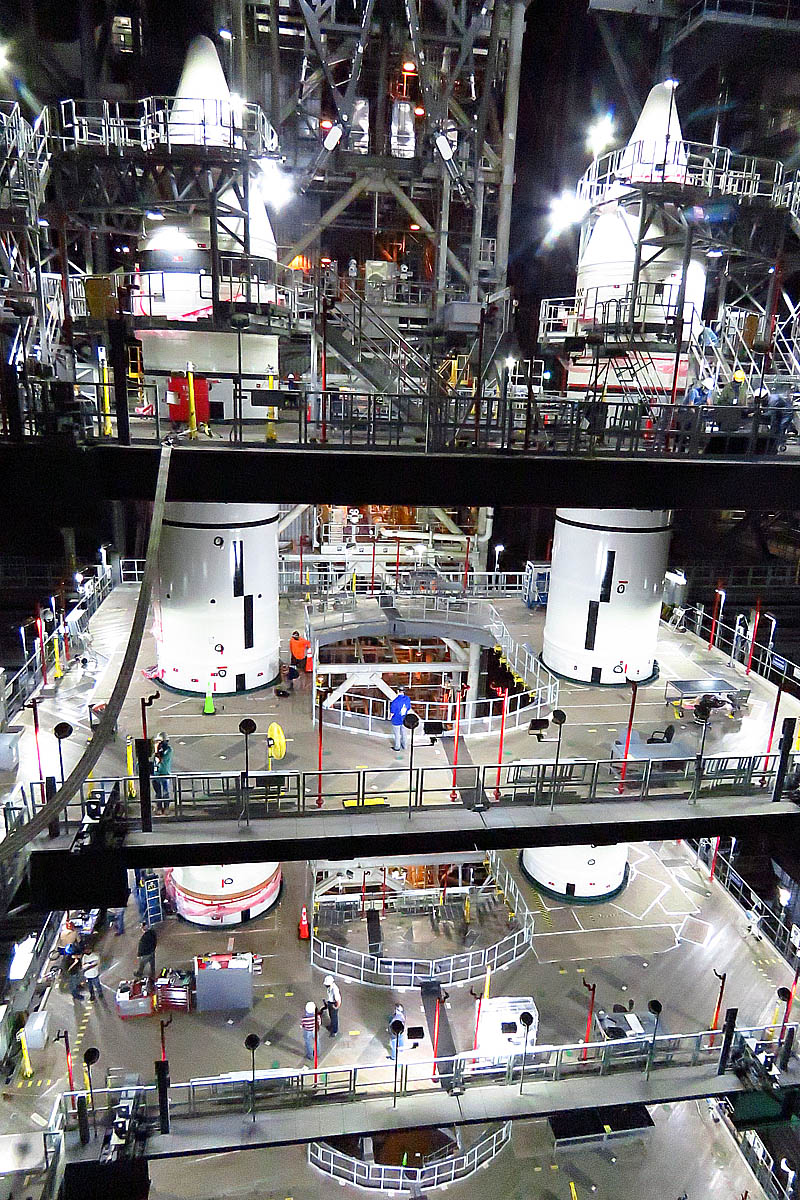 The twin solid rocket boosters, the most powerful ever built, are derived from the Space Shuttle program. Each weighs 1.6 million pounds and can produce a liftoff thrust of 3.6 million pounds. Performance enhancements over the Space Shuttle version are derived primarily from the addition of a booster segment. The SLS solid rocket boosters employ five segments, up from four segments for the Space Shuttle boosters. This accommodates about 25 percent more fuel for greater thrust and burn time. Other improvements include a new nozzle design, new asbestos-free insulation and liner configuration and new avionics. Unlike the Space Shuttle boosters, the SLS solid rocket boosters will not be recovered. The SLS solid rocket boosters burn polybutadiene acrylonitrile (PBAN) solid fuel.